LITERACY ABHIYAN - 2017
These women of Telangana State (in the picture)
were shy to come to an adult literacy class.
It looked crazy for the women of their age
to sit like little children holding slates in their hands.
But as they learn, it gives them confidence and a new
hope that one day they too will be able to read, and
have a place in the society as women who can read,
write and count their money. They will never again
need anybody's help to do this and will erase
the stigma of Thumb Impression!
MAKING 100,000 LITERATE
AIM ASIA has undertaken Literacy Abhiyan this year to initiate adult literacy program in low literacy areas with a goal of making 100,000 people literate. A contingent of 2000 literacy teacher are being mobilized to meet the challenge.
Literacy is the ability to read, view, write, design, speak and listen in a way that allows a person to communicate effectively. The power of literacy lies not just in the ability to read and write, but rather in a person's capacity to apply these skills to effectively connect, interpret and discern the intricacies of the world.
Research shows, people with good literacy skills are more likely to have higher self-esteem, better health, better jobs and higher wages than those with poor literacy skill.
Millions of people in low literacy regions are still deprived of the awesome benefit of literacy and ignorant about great many things that our wonderful world has to offer.
We need partners who are willing to invest into the lives of men and women who have never been to a school system. They deserve at least one opportunity in their life time. Don't they?
AIM ASIA USES QUALITY LITERACY MATERIAL PRODUCED BY IBL
Transformation through Literacy
If education is vital to the development of a nation, the need for literacy schools in rural and tribal India cannot be over-emphasized. It is a huge challenge to eradicate illiteracy in a country where 50 percent of the people are illiterate and 90 percent of the women in rural areas have never gone to any school system.
Illiteracy dampens the hopes of a people. Their inability to read and to write or do a two digit sum becomes detrimental to progress in life. The whole wide world of wisdom remains hidden from their eyes.
Literacy impacts people in many ways
It helps them to form self-help cooperatives.

It given them an understanding of measurement of volume, weight and length.
It gives them a knowledge of a legal documents or ballot papers which may require their signature and approval.

It gives them the ability to read street signs, bus or train schedules, etc.

It helps them read health pamphlets, letters, news, etc.


It encourages them to send their children to school.




It helps them read the word of God.
TRAINING LITERACY WORKERS IS KEY TO LITERARY ABHIYAN
OUR LITERACY PROGRAM is an effort to making a difference in the rural populace and helping secure a progressive future for underprivileged children.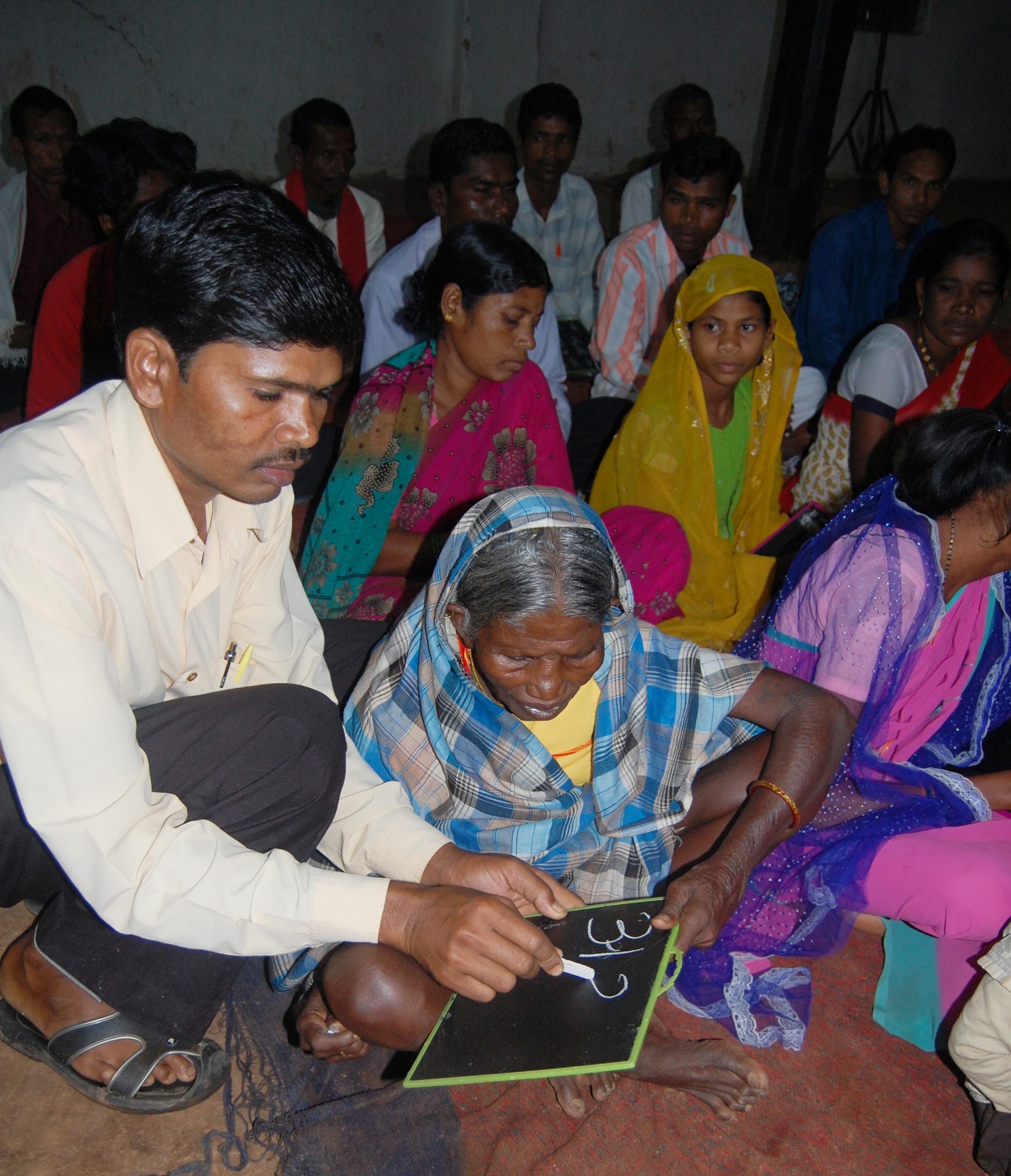 With the population of India now crossing 1 billion-mark and with issues of poverty and social inequalities becoming larger, it is time to face the challenges.
Our literacy schools initiated in the villages consist of 30-50 adult students. They run 6 days a week and for one year. Slate and literacy material are provided free of cost to each student. Petromax lights are supplied to the centers with no electricity.

Literacy is the key to health care, employment, and upward social mobility. our desire is to be able to light the lamp of literacy in low literacy areas.
To know how you may help someone to become a literate, please contact:
President, AIM ASIA
aimlohara@gmail.com
Phone: +91-40-27175308