AIM ASIA IS A
TRUSTED FRIEND!
Many well-meaning leaders across the globe have appreciated the work of
AIM ASIA and have admired the leadership of Bishop Dr. Joab Lohara,
Founder-President of AIM ASIA. Here is a few of them: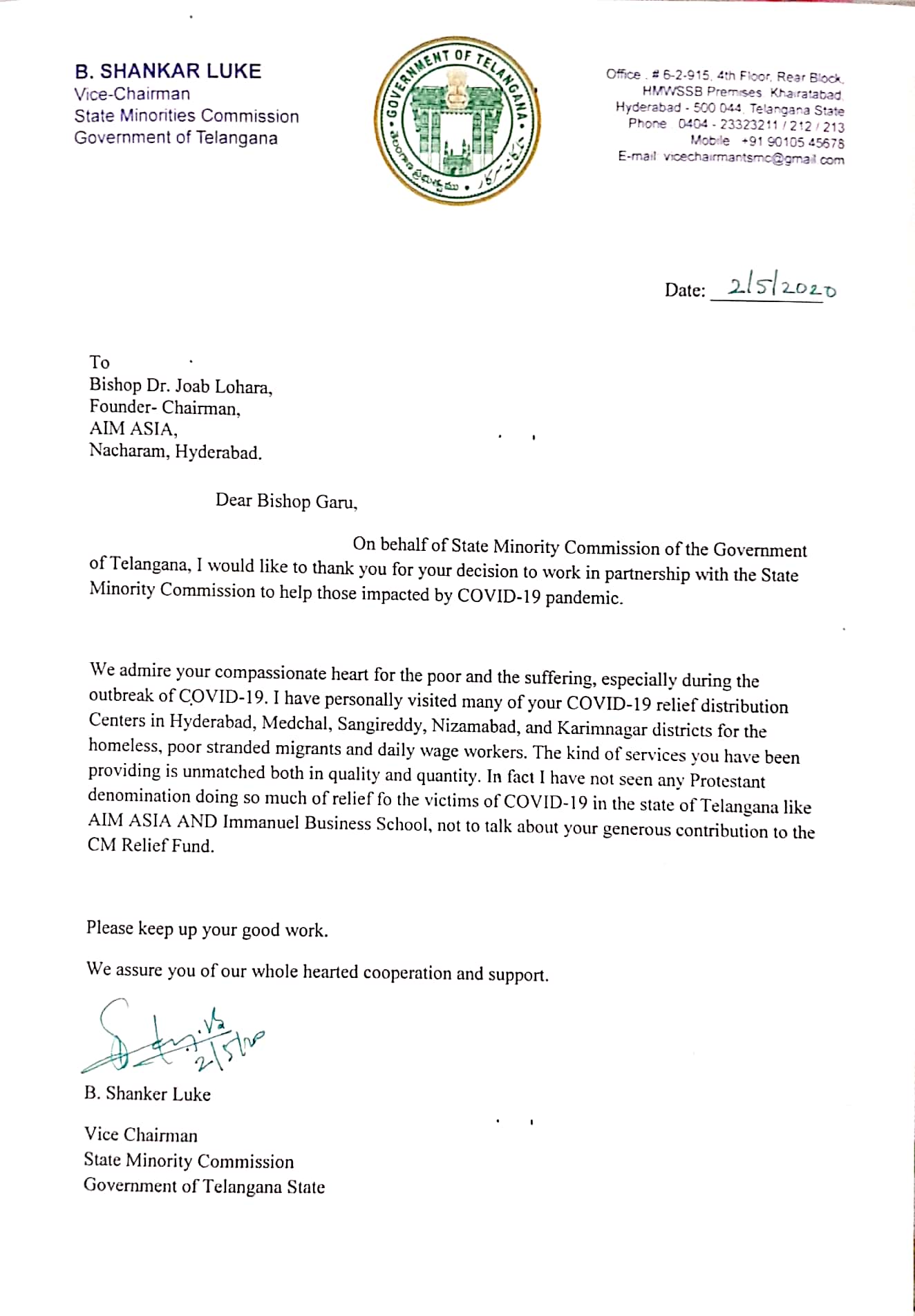 "It has been a blessing to know Dr. Joab Lohara and to be associated with his ministry. Just a fledgling work in 1986, AIM ASIA has become a national movement today offering yeoman services to the poorest of the poor in the sub-continent and beyond. Joab's vision is very contagious- I couldn't do away with it." - Dr. Vijay Bhushanam

"I have known Dr. Joab Lohara to be a man with deep spiritual insights. As a journalist, he has impacted thousands of lives through his writings. His communication skills have been effectively used in bridging the gap between the secular and the sacred. Joab is adventurous when it comes to initiating new work; his determination and courage are commendable. - Bishop Dr. Narendra John
"The vision of Dr. Joab Lohara for AIM ASIA has truly captured my heart. No other involvement has changed the hearts of our people like the opportunities we have been exposed to through AIM Asia. - Doug Corlew

"My first crash with AIM ASIA was in 2004. Ever since I have become a close friend. I have fallen in love with the native workers, the widows and the leprosy patients. I was very impressed by the integrity and the love with which AIM ASIA serves the poor of the land. The destitute have a special place in their hearts. - David Goodnight
"Dr. Joab Lohara brings a rare and much needed combination of scholarship and commitment to serve the poor and disenfranchised. He possesses a creative mind and positive attitude that has led him successfully into many ventures in helping those who need help most. He is a friend of the world and an undaunted servant." - Dr. Matt Thomas

"Dr Joab and Suchita Lohara and their team have taken the vision above and beyond anything we ever dreamed of when we first met. We are very proud to be associated with this great work in Asia. The humanitarian projects among the destitute, orphans and the widows, training to native pioneers, and community transformation efforts are truly making a difference, not only in Asia but in every place where the expanding vision touches." - Dr. Joe Fauss
"My experience with AIM ASIA has been life-changing and destiny redirection. Anyone, or any group looking for integrity, and results that can be verified by almost 30 years, AIM ASIA is worth their investigation. I am absolutely certain about its productivity in raising orphan children with total love and care. I have personally visited the work of AIM ASIA and worked with several of Dr. Joab's staff and they are real deal." - John Mitcham


"It has been my privilege to know and work with Dr. Joab Lohara since 1994. In traveling with him in India I know him that he has a heart for the people of India and around the world. His mercy ministries among the destitute at the feeding centers and orphanages are a witness to his compassionate heart. I have found him to be a man of integrity and vision. I consider it an honor to have personal friendship with him and partnership in his work. - James Walker
THANK YOU FOR YOUR TRUST!