NEW ORPHANAGES
IN WEST BENGAL AND ASSAM
It was unanimously decided in the recent AIM ASIA LEADERS' MEETING held in Kolkata that two orphanages, one in West Bengal and the other in Assam, will be launched in 2017 to provide education to destitute, orphan children.
The Coordinators of these two states, James Chhetri and Santosh Soren, have been advised to make necessary arrangements for the launch of these Childcare Homes. There appears to be an obvious need to care for the children of poor tea garden laborers who have no easy access to education system. In cities like Shiliguri and Guwahati, the number of vulnerable and deprived children is on the rise.
We cannot help eveyone for sure, but making a difference in the lives of some children will be our goal.
Please join hands with us and help us transform the future of the children.
FRIENDSHIP WELLS
FOR SAFE DRINKING WATER

Ten tube and motor Wells were provided in Chhatisgarh and Odisha during 2016. The women of these villages used to walk miles to fetch water from mud holes in rice fields, open wells and contaminated ponds.
Drinking unsafe water, they were in danger of waterborn diseases and serious health hazards. AIM ASIA saw the joy on the faces of the people, especially women and children when the WELL was provided. As the water gushed out of the earth, the children splashed it into their faces in sheer jubilation. They had never seen safe drinking water in such abundance right in front of their homes. The village elders were thankful for such a gift as this.
Dear Friend, you may be in a situation where the water you flash out in your toilets is cleaner than what most people drink in most parts of the world. You are perhaps having a home where clean water is abundantly available.
But there are thousands of villages where women walk miles carrying a pitcher on their head so they can get some water for the family. One way to share your water with people in crisis is to use your water discreetly. Another way to help them is to donate funds to provide a well to a village or slum in scarcity of water.
Please write to President, AIM ASIA:
aimlohara@gmail.com

It is a Friendship Well.
It is for everyone that comes by it!
NEW DEGREE COLLEGE IN IMMANUEL CAMPUS
If all goes well, there will be a Degree college launched in the 2016-17 academic year with B.A. B.Com, BBA, and other degree courses. The Board of Directors have passed a resolution to this effect in their annual meeting on January 29, 2016.
It is also decided that 2 acres of land will be provided for this purpose in the academy campus at Solipet and the new building named after Dr. David McKenna will be used to launch this program until a separate building is constructed.
SPECIAL CARE
TO LEPROSY PATIENTS
A new leprosy center has been initiated at Madhapur, Hyderabad to care for those affected with leprosy. We provide them rice, lintel, soap, oil, medicine etc. to help them live a life of dignity. This supply of grocery has prevented many helpless victims of leprosy from begging in the streets.
We have provided tri-cylces to those who cannot walk due to ulcers and deformed feet.


FREE EYE CAMPS TO SERVE THE POOR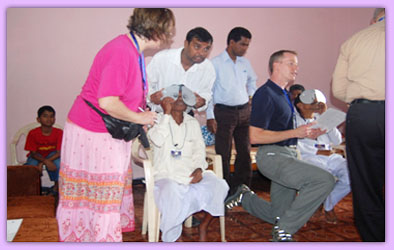 A free Eye Camp was organized in the Immanuel campus, Hyderabad for the participants of our national staff conference. Hundreds of delegates from across the country had their eyes examined by Optometrist Jonathan and his team and received medicine and eye glasses for free. Similar camps were also set up at Tarigopala and Matya Tanda respectively on 22nd and 23rd of November . At least 1600 people turned up at these free eye camps.