LEPROSY PATIENTS:
SERVING THE LAST OF THE LEAST!
NEW CLOTHES, BLANKETS AND ESSENTIAL FOOD SUPPLIES
IT IS DIFFICULT TO REVERSE THEIR PHYSICAL DEFORMITIES NOW.
BUT WE CAN HELP THEM LIVE HAPPILY AND IN DIGNITY!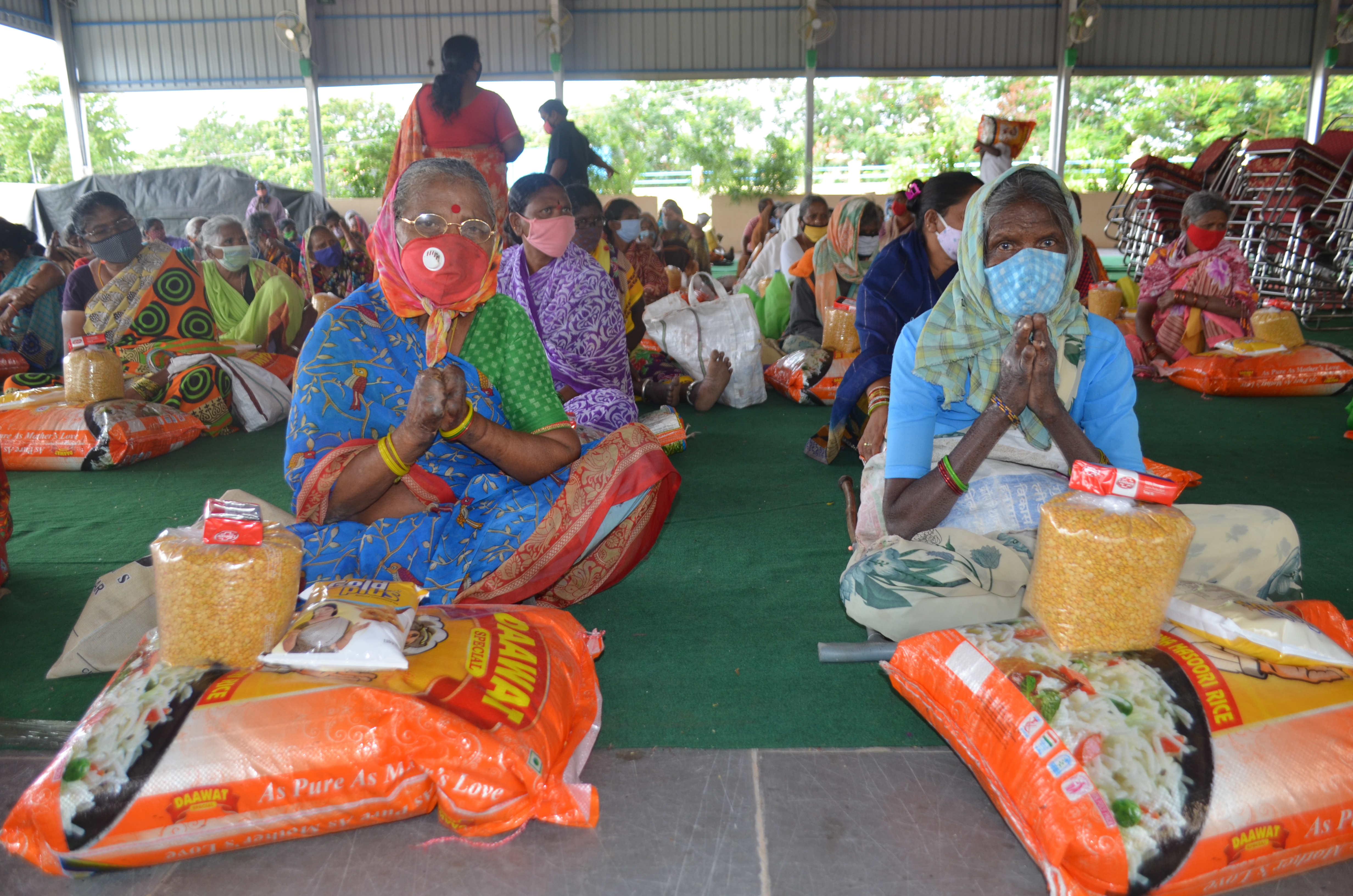 WHEN
FAMILY AND SOCIETY
ABOMINATE...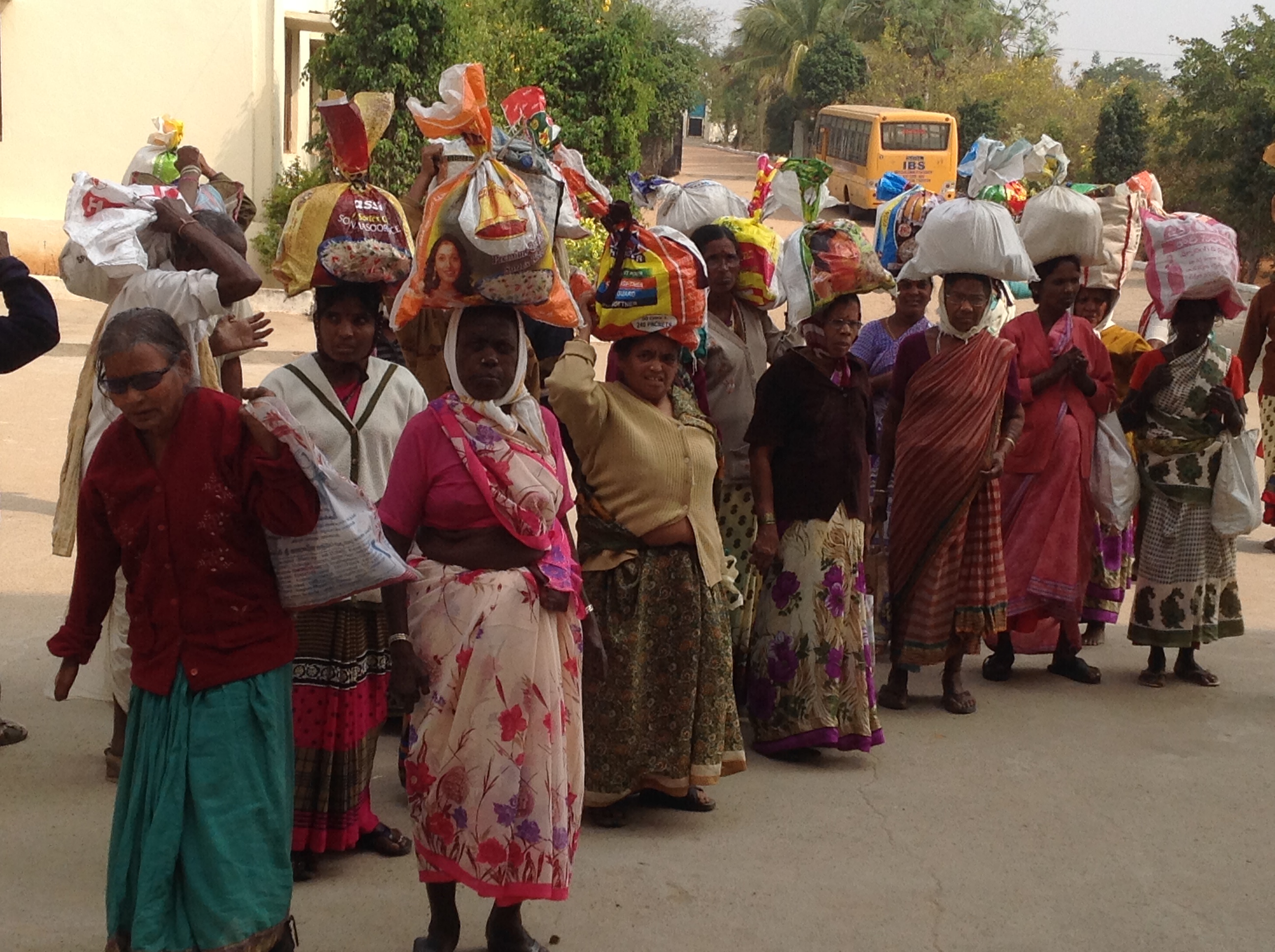 LEPROSY PATIENTS ARE GIVEN THEIR MONTHLY SUPPLIES
WITH SHIRTS AND SAREES
LIFE SKILL TRAINING
FOR LEPROSY PATIENTS!
Breaking the Taboo!!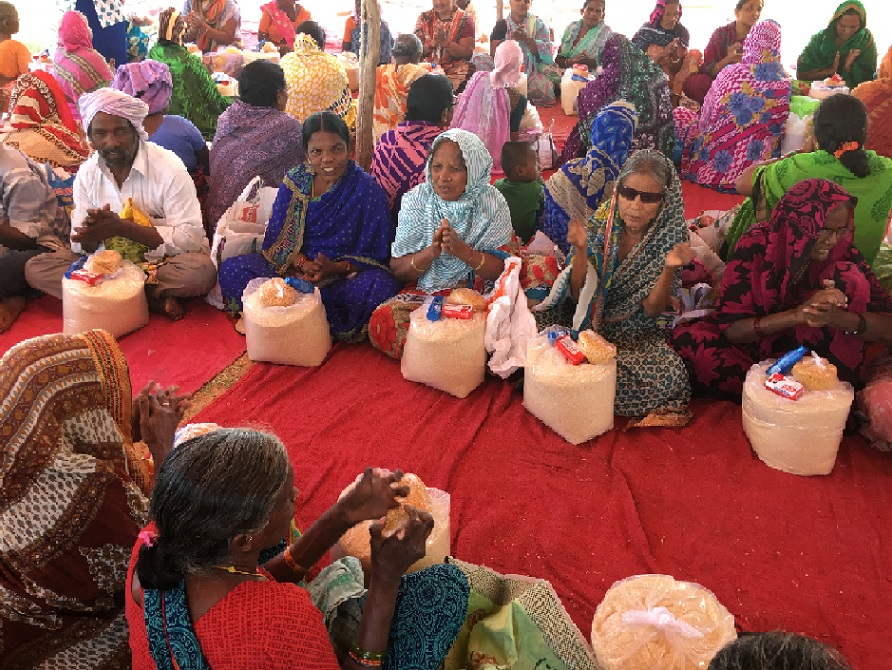 Despite widespread awareness campaign against leprosy, it is still considered a dreaded disease.
The victims of leprosy are not welcomed into the homes of their own relatives and friends. They live like refuse, away in isolated colonies. Many cannot work with their hands because their hands are eroded and because of ulcers in their feet. But those who can work face the ignominy of the disease. People still fear leprosy to be contagious.
A leprosy doctor, we know of, used to smear the pus of leprosy on his thumb after treating a patient and put the thumb into the roof of his mouth to prove that leprosy is not contagious and that most people are immune to leprosy.
But the world has not believed yet!
There are thousands of leprosy patients in and around Hyderabad city where AIM ASIA is headquartered. They need help desperately. They need food supplies, utensils, medicine, housing, tri-cycles, clothing, warm clothes, blankets for winter, etc. Their children need financial help to be able to go to school. Above all, they need to learn a life skill that can get some support for their families.
AIM ASIA has been giving them lots of supplies for their subsistence and taught them trades. We have also helped their children to go school. Now we are seriously thinking about a Life Skill Training Center where the able bodied patients and their family members can be trained to eke out a living on their own. This program is designed to prevent the leprosy victims from begging alms so they are led into a life of dignity.
The center will be located in East Hyderabad and in full operation from March 1, 2018.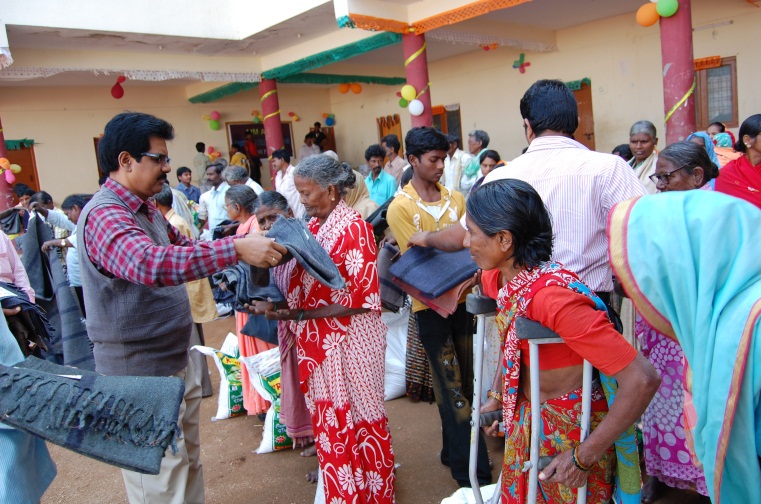 BLANKETS TO LEPROSY PATIENTS
KAVITHA CAME CRAWLING TO OUR LEPROSY CENTER,
WE SENT HER BACK ON A TRIKE!
SERVING LEPROSY VICTIMS
"Ma'am, we are starving!" the voice choked as the caller continued.
"My name is Kasaiah. I am a leprosy patient. There are 50 leprosy families in my colony who live on the alms. Since it has been raining continuously for a week, we have not been able to go out begging. There is no food, nothing. Could you please help?"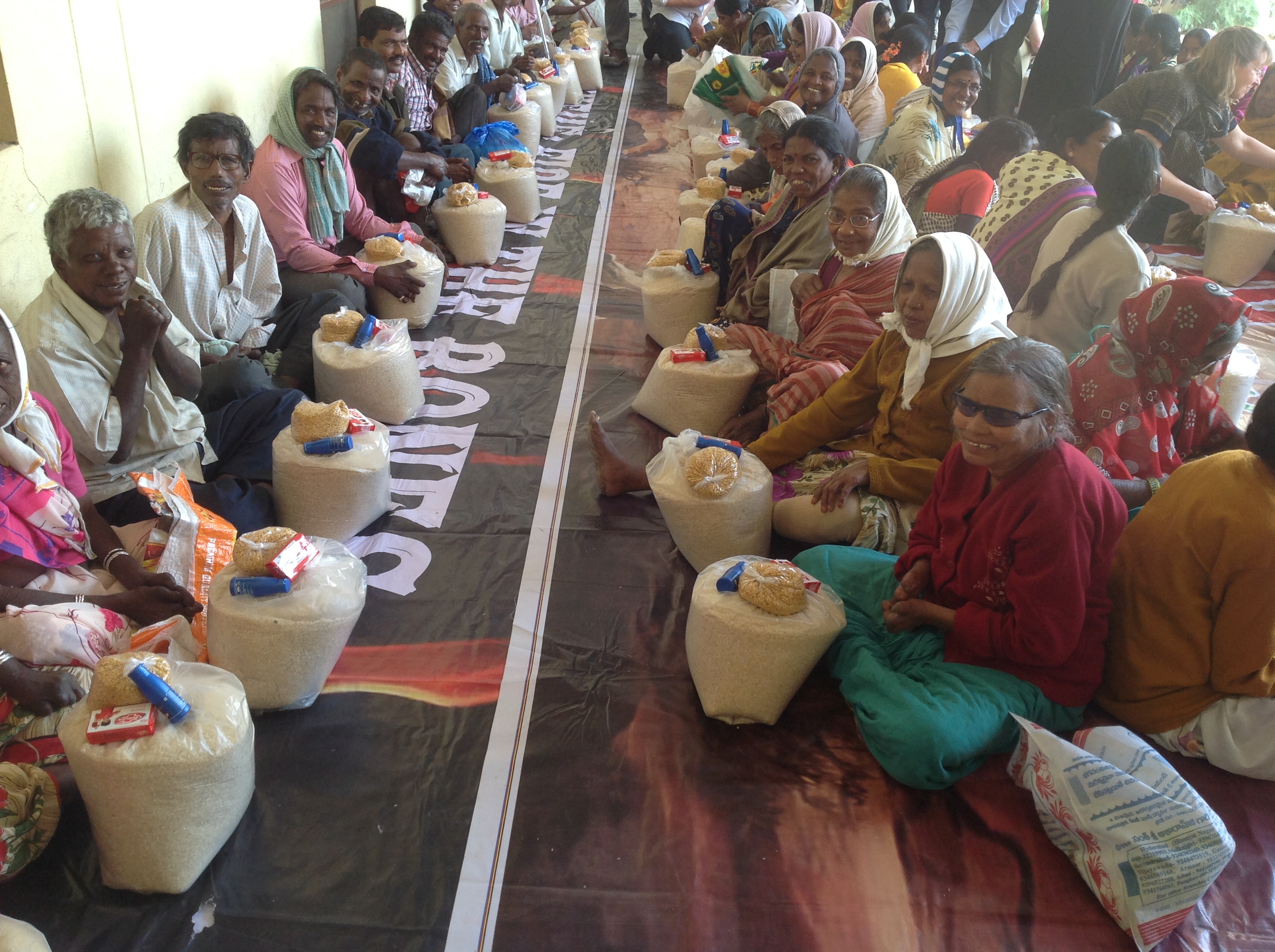 LEPROSY PATIENTS BEING SERVED WITH RICE AND LINTEL
It was a damp monsoon morning when AIM ASIA touched down with compassion. The leprosy patients needed help desperately.
We had no funds for leprosy work. But we wanted to help them anyway. The leprosy service got started with the help of a few friends. We have been supporting 80 leprosy families in Madhapur, Hyderabad ever since.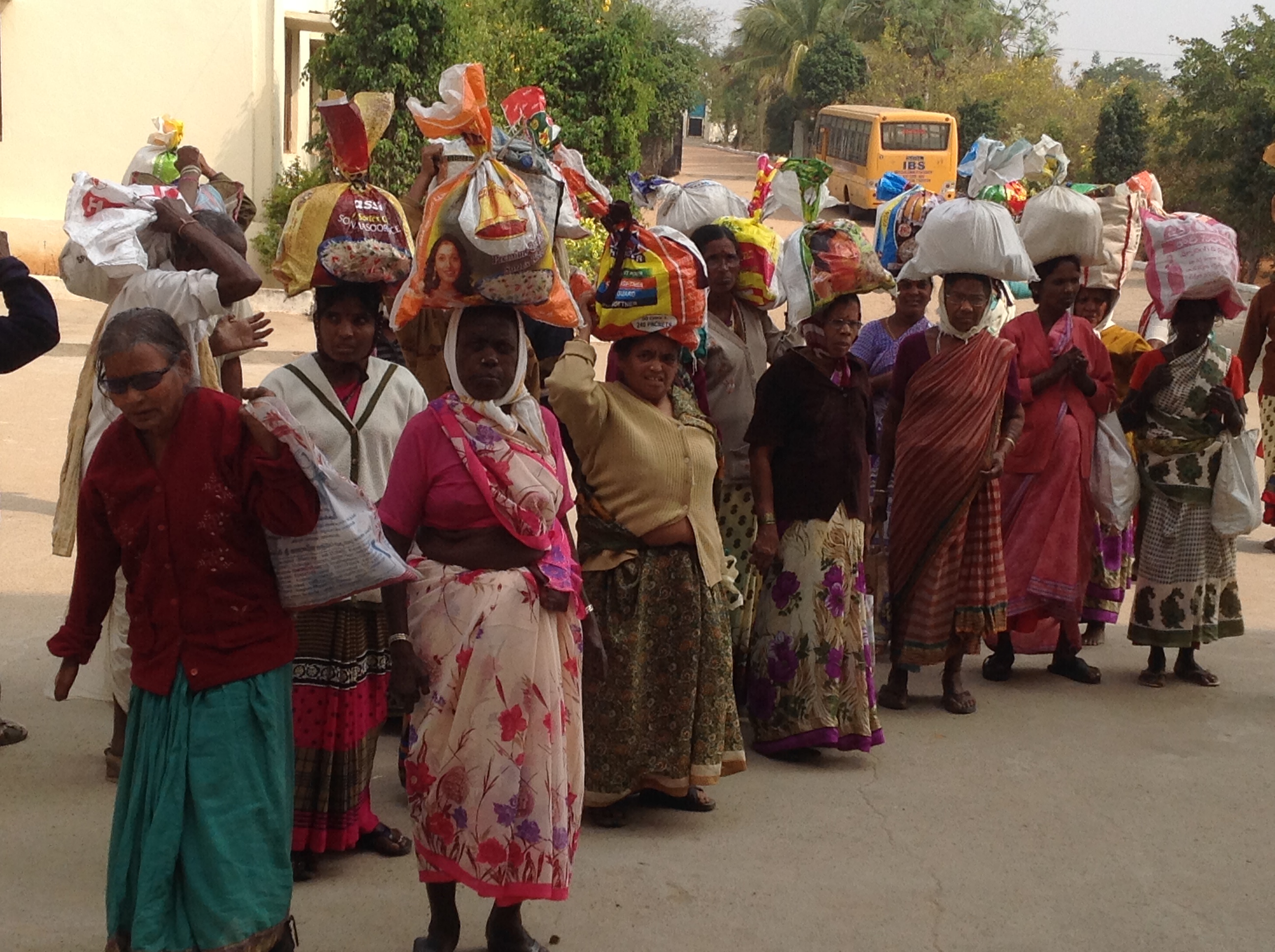 LEPROSY PATIENTS GO JOYFULLY CARRYING THE SUPPLIES ON THEIR HEADS
aimasia1986@gmail.com
Phone: +91-40-27175308