2017 - MAJOR EVENTS!
ALL INDIA COORDINATORS
MEETING IN HYDERABAD
All India coordinators' meeting was held in Satyodaya, Hyderabad: July 25-26, 2017. All our regional coordinators from Telangana, Andhra Pradesh, Odisha, Chhatisgarh, West Bengal, Assam, Sikkim, Madhya Pradesh, Gujarat, Rajasthan and Punjab participated in this important meeting.
Dr. P. Manasseh and Dr. Christy Kumar led the devotion in the morning. President Dr. Joab Lohara provided an overview of the national work and engaged the coordinators in planning and development of various new projects.
Field reports were presented by each coordinator. They were reviewed and recommendations were made to imbibe the quality of service in all areas.
Some prime projects that highlighted the sessions were:
Vocational Training Center for women at Bagidora, Rajasthan

Construction of Second floor of hostel building at Bagidora, Rajasthan

Construction of second floor of guest house at Immanuel Academy campus, Solipet, Telangana

Construction of Centre for Cultural Studies and Leadership at Immanuel Academy, Solipet, Telangana

Construction of hostel building at Rasika Rajpur, Odisha.

Construction of a seminar hall at Jehovah Nissi premises, Kurlunda, Odisha

Day Care Center in Birpara, West Bengal

Adult Literacy program in Telangana, Odisha, Chhatisgarh, West Bengal and Assam

National Bi-annual Staff Conference in Hyderabad in November 2017

National Youth Conference in May 2018
The meeting commenced in the morning of July 25 and concluded in the evening of July 26, 2017.
BOYS' HOSTEL UNDER
CONSTRUCTION
A hostel building for the boys is under construction at Rasika Rajpur, Odisha. Eighty boys from Saura tribe are now living in a congested, rented house. The building is scheduled to be completed by December 2017. Providing education to destitute children has been our purpose in facilitating such hostels in different parts of the country.
M. A. in LEADERSHIP
A new program has been introduced this year at the Immanuel Academy: M.A. in Leadership. With the number of NGOs growing in the country, this course will be immensely helpful to prepare students for managerial positions.
The course consists of 4 semester. A highly popular business module developed by a U.S. professor in Seattle Pacific University has been incorporated into the curriculam. Graduates from all disciplines may take up this course. We facilitate loans and scholarships for students who are good at studies.
WEDDING BELLS
FOR PRAMILA
Ms. Pramila who grew up in our orphanage at Bogaram in the outskirts of Hyderabad since she was in her third grade passed her High School with distinction and went on to do her B.Sc (Nursing). She is now employed at Yashoda hospital as staff nurse.
As wedding plans are being firmed up, Pramila is pretty excited. If all goes well, she will be getting married in August 2017. Congrats, Pramila - you have always been an achiever!
EAST INDIA
COORDINATORS' MEETING
IN KOLKATA
AIM ASIA Coordinators of Chhatisgarh, Orissa, West Bengal and Assam met with the President Dr. Joab Lohara in Kolkata on December 19-20, 2016 at the Indian Institute of Training and Development.
Many important decisions were taken:
1. Two orphanages will be launched in West Bengal and Assam respectively early 2017.
2. There will be a staff training seminar in Guwahati, Assam in February 10-12, 2017.
3. AIM ASIA Central office which is under construction at Nagaram, Hyderabad will be inaugurated in April 2017.
4. West Bengal staff will have a training seminar in Kolkata in May 2017. Funds for more sewing machines for the Sewing Schools at Birpada and also at Jagadalpur have been sanctioned.
5. A family retreat for all the leaders of AIM ASIA is scheduled in Darjeeling, West Bengal: May 17-19, 2017.
6. It was decided that Bi-annual National Staff & Leadership Conference will be held in Immanuel Academy campus, Hyderabad: November 6-9, 2017. Delegates from all across the country will participate in this major event.
7. Youth empowerment will be given the focus during 2017. Youth will be given training in job-oriented courses and life skill education. Students will be encouraged to pursue higher education with loans and scholarships provided by AIM ASIA.
8. Major construction projects undertaken for Jehovah Shalom Boy's Home (Odisha), Jehovah Jireh Boys' Home (Rajasthan) and Jehovah Nissi Activity Center (Odisha) will be completed in 2017.
9. Two thousand literacy teachers will be trained throughout the country to cope with Decade of Literary (2016-2026): the goal is to make 100,000 people literate.
10. More than 200 literacy centers will be initiated in low literacy areas of Orissa, Chhatisgarh and West Bengal in the first half of the year to make 10,000 people literate during 2017.
It would be wonderful to see them literate so they read, become self-confident, help others, know their responsibilities, become good citizens and learn accounting, choose leaders, know government projects and the right direction.
It would also be very satisfying to see all the projects completed in 2017.
Please write us if you are interested in helping any of the afore said projects of AIM ASIA.
Thank you.
President, AIM ASIA
aimlohara@gmail.com
COLLISION 2016:
EVENT EXTRA-ORDINARY
The youth are our tomorrow for the community and the nation. AIM ASIA cares for the development of emerging leaders. That is why the Collision Youth Conference.
Collision 2016 is all set to begin in the afternoon of May 3 and end on May 6, 2016. Over 500 young people from all over India are expected to participate.
The theme of the conference is: "REMEMBER, REMOVE, REJOICE" based on Eccl 12:1-3.
If you are a young person (16 - 30 years), you are invited to sign up. Call (040) 2717 5308 or email to: tanujgaurav@gmail.com
TRIKES DISTRIBUTED TO PHYSICALLY CHALLENGED!
Ten physically challenged received tricycles in a simple ceremony at our Ministry Center in Hyderabad. Poor and handicapped, they have lived all their life struggling to move by themselves or with the help of a dear one. But now, they would be able to ride the trike and even be able to help others. We could see visible gladness on their faces they received the trike from AIM ASIA officials. More trikes are in the making in our Vocational Training School. Please pray for resources to buy accessories.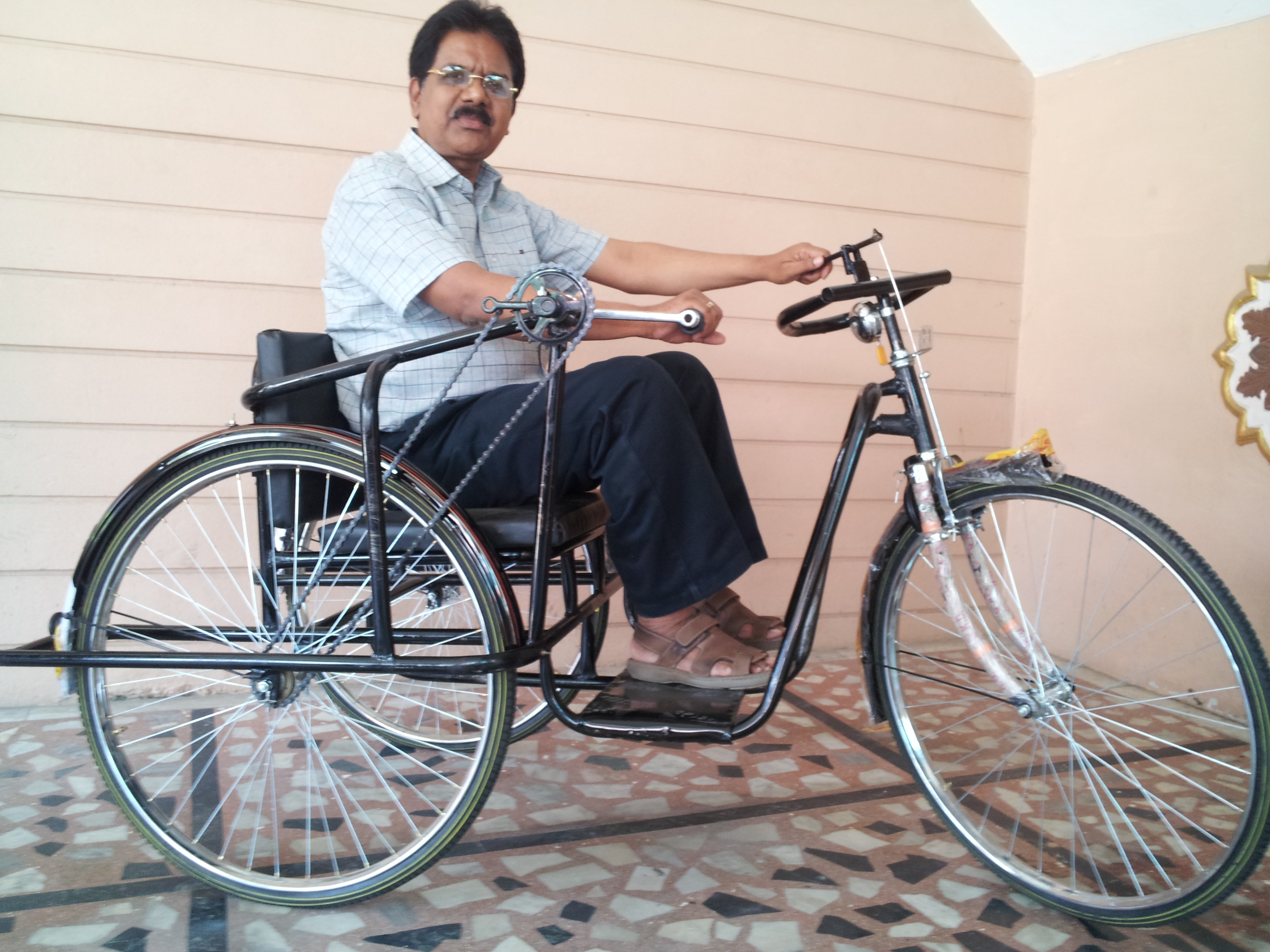 I wanted to ride one and experience the joy firsthand before we gave them out.
SEWING CENTER IN
BIRPADA, WB
A craft school with new sewing and embroidery machines has begun in Birpara, West Bengal. Thirtyfive girls are learning the trade in different shifts. It is one-year training program after which the trainees will be able to work in a garment shop or start a small business at home.
This is not just a trade - it provides a tool to earn their livelihood. We would like to see many more sewing centers opened in slum and village areas.