INCREDIBLE EDUCATIONAL
OPPORTUNITY!!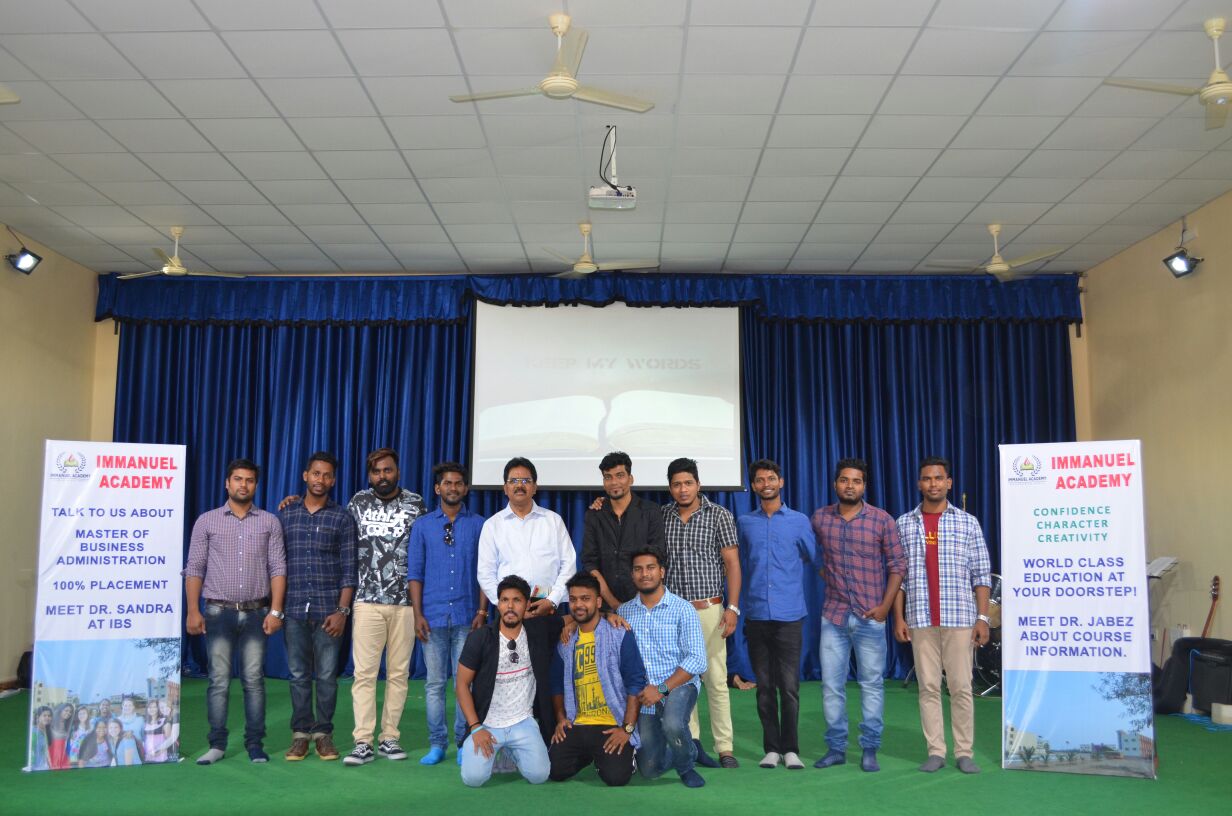 IBS ALUMNI SOARING HIGH!
Please Take a close look at the picture above. If you are familiar with IBS,
you might recognize many of them, or all of them. They are our heroes!
Our Pride! For those who are not familiar, Here are their names and where
they are placed: (From left to right standing - Rajkishore Khosla, Micro
Intellect; Nasib Nayak, Apollo Marketing; Kranti Kumar, UBER Operations;
Sabir Kumar, Vijay Electical; Suhit Kumar, InLife Pharma Ltd; Saurav Naik,
Fox Ad Media; Ashish Ranjan, Franklin Templeton; Nitish Kumar, Mars
Telecom; Pradat Jena, Hinduja Global; Premson, AJR Info System;
Subhendu Naik, Cigniti Technology; and Aishwarya, TATA Consultancy.
IBS is designed to provide an environment for global learning and to
produce employable graduates. 100% placement record speaks of our
commitment to world class education and of our testimony to academic
viability.
Admissions are open. Talk to us about how you can be a part of this
premier MBA College.
+91 770 20 55 677
040 27175308
Email: aimasia1986@gmail.com
JUST AN MBA?
NOT REALLY ENOUGH!!
"What's in your repertoire?" - Your employer is going to ask you this question at some point in your career, someday?
It is for this reason, We at Immanuel Academy are seriously concerned about producing employable business graduates.
Having been associated with B-schools and corporate houses across the globe, we know exactly what the employers are looking for: people who can enhance the success of an organization, not just do the functions of a job.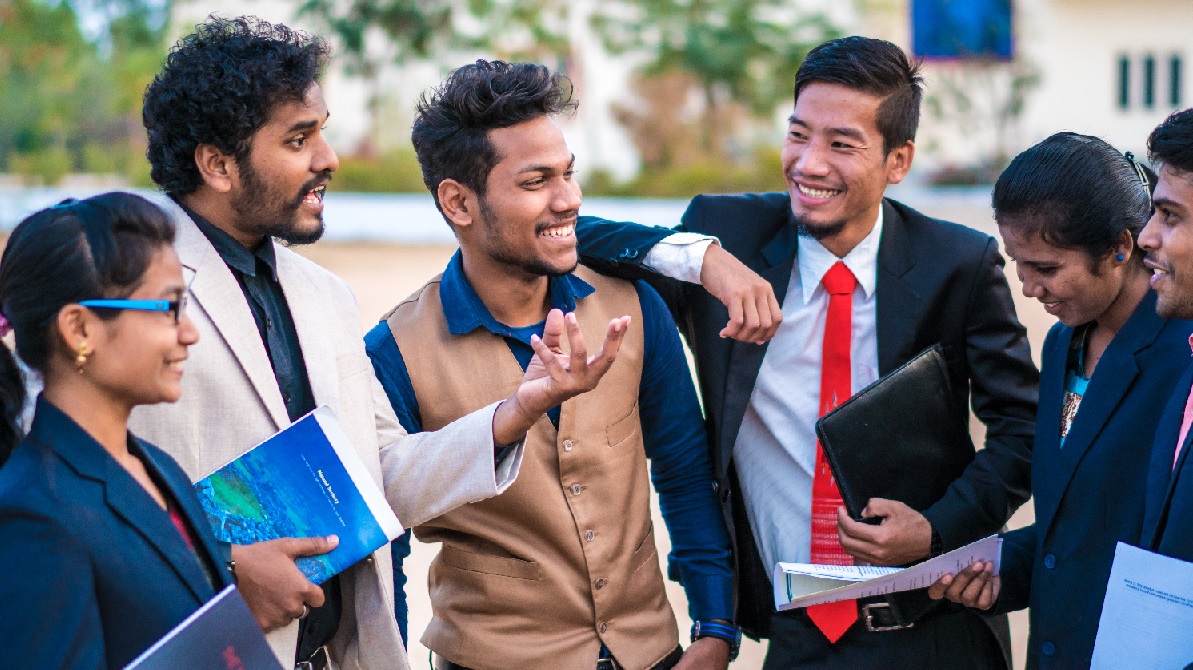 CAMPUS LIFE, LIFE SKILLS, EDUCATION
We have developed life skills that go beyond a typical college class. We offer our students to understand the context of their education and the realities of a global marketplace.
The importance of integrating soft and hard skills is THEREFORE on the top of our agenda so that our students learn to weave soft skills into their life and education.
WE have an excellent contingent of highly qualified faculty and extremely helpful staff. While the very dynamic Dr. Sandra Kirthy continues to be the Principal, the campus has a new provost in Dr. Ravirakula Jabez. With the help of our teaching and administrative staff, they have been doing a tremendous job to ensure that our bench mark is set higher.
All the parents and the students must understand that we spend huge amounts of money for faculty salaries, food, administration, buildings, sports, conferences, foreign visits, campus maintenance, etc. Whereas fees we collect are very negligible – it can't even pay the salary of one staff. But our joy has been to see economically weak students acquire a degree in management and get into a career.
We work very hard on those students who cannot speak English well. We engage special language teachers. We enlighten them with soft skills and send them to visit foreign universities, corporate houses and business firms.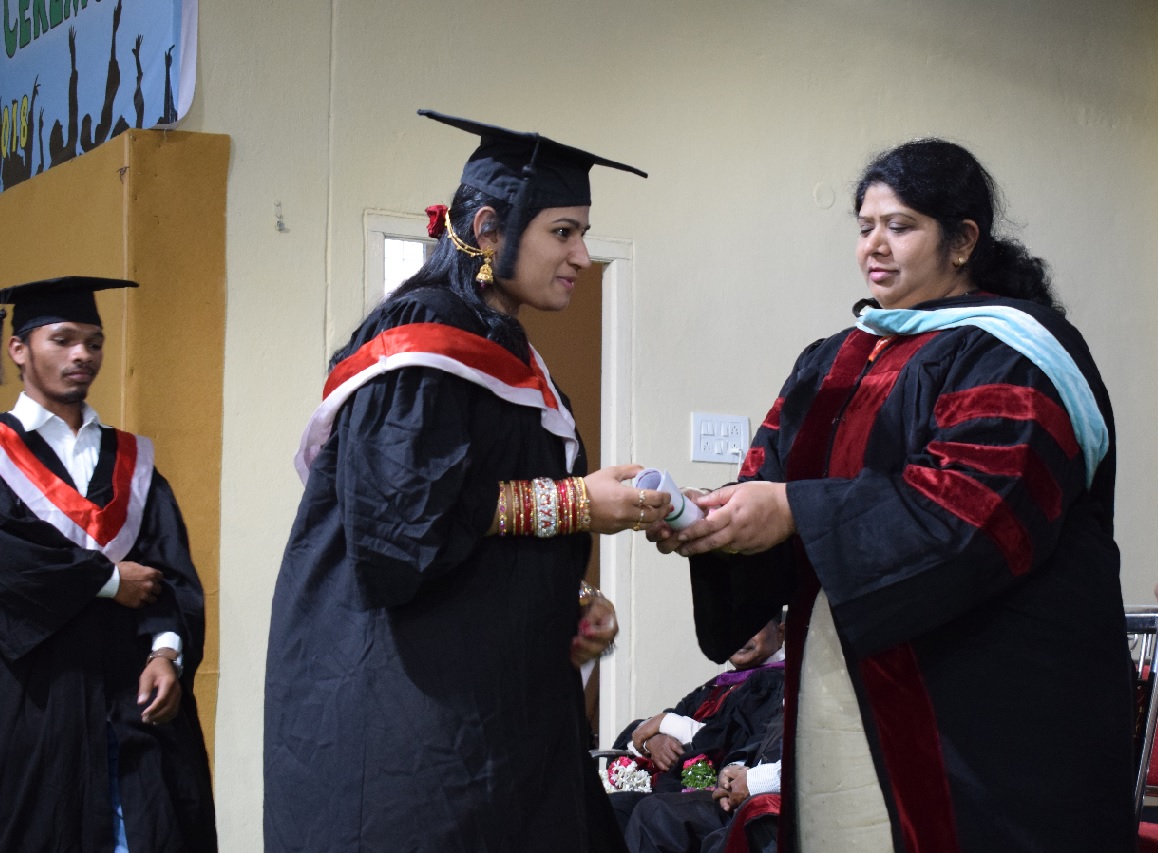 Superintendent of Police, CID, Ana Parimala Nuthan, IPS giving away the awards
We invite foreign professors and students to our campus, so our students can interact with them and learn from each other. We engage them to write articles and do presentations. They participate in debates, and inter-collegiate competitions.
Each one of our faculty and staff mentors 3-5 students all through the program. All these are a part of our endeavor to create a brand.
No wonder, many of our students get placements while they are in the last semester of their MBA. We can really boast of those who have made it to companies like Tata Consultancy Services, Hinduja Global Services, Cognizant, Amazon.com, etc.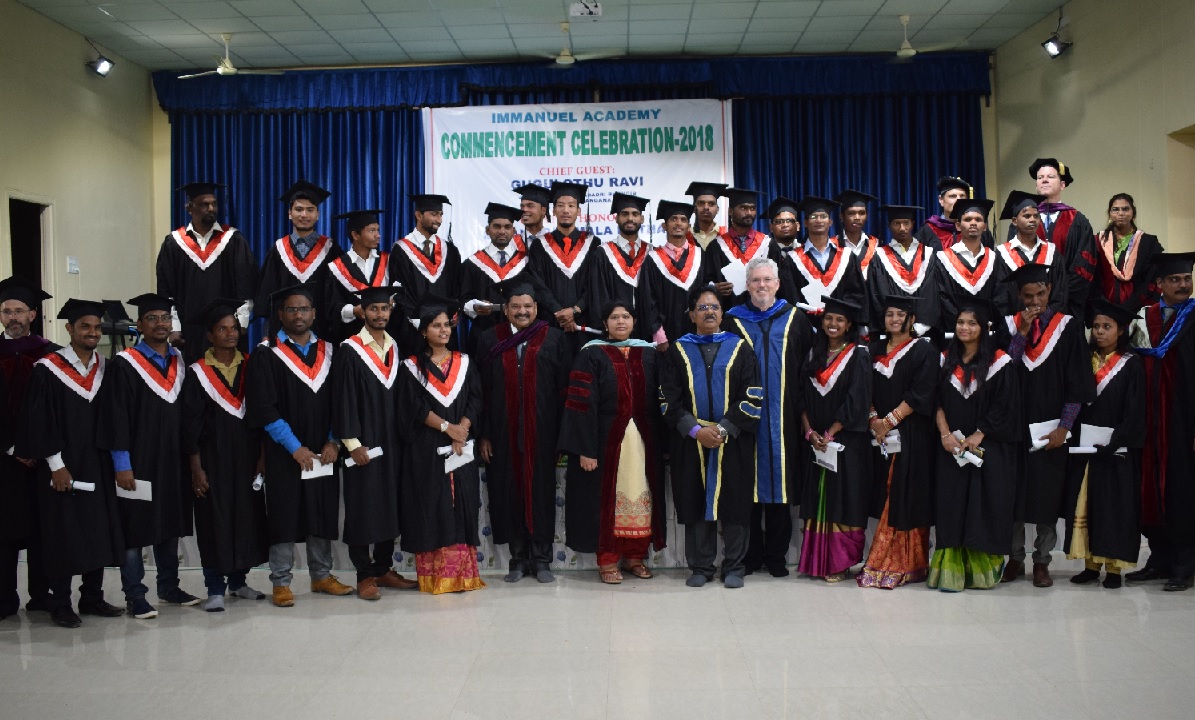 LOAN FUND AND SCHOLARSHIP
Those who are intending to take admission in 2018-19, it would be encouraging for them to know that we have created a loan fund and a scholarship fund. We invite your applications right away to avail this benefit and to know much ahead of time that you are eligible.
It is a fabulous educational opportunity at IBS. Do not miss it. If you choose IBS, we will put you through a gateway to the Business World.
BA, BCom & PG COURSES
(EVEN SCHOOL DROPOUTS CAN ENROLL)
Right in our college campus, Distance Education Program was introduced this year to run BA, BCom and PG courses under Kakatiya University. If you are 25 years of age with a working knowledge of English, you could take an entrance test and enroll for degree program. All school dropouts can avail this incredible opportunity.
For more information, please contact:
+91 770 20 55 677
040 27175308
Email: ibssolipet@gmail.com
-.-.-.-.-.-.-.x.-.-.-.-.-
MBA ADMISSIONS - 2017
IMMANUEL BUSINESS SCHOOL
YOUR GATEWAY TO THE WORLD OF BUSINESS!
Approved by AICTE & Affiliated to JNTU-H
TSICET CODE: IBSS
ADMISSIONS OPEN NOW FOR 2017-18 ACADEMIC YEAR!
Ten of our top ranking students are preparing
to visit USA on a study tour this year.
You could be one of them!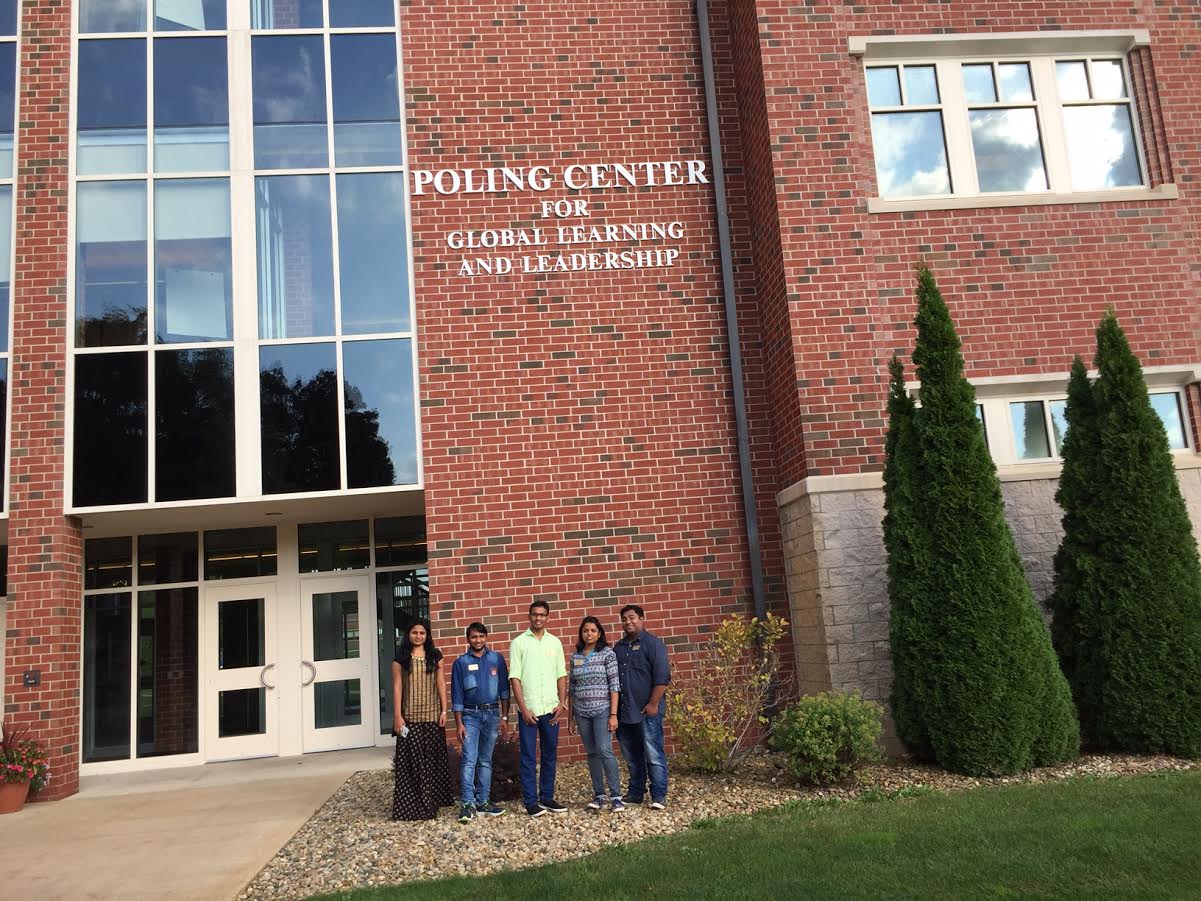 IBS STUDENTS VISITING
SPRING ARBOR UNIVERSITY, USA
Launched in the year 2012 with a view to offer higher education to the poor, Immanuel Business School has come a long way.
Located in the eastern suburbs of Hyderabad, IBS strives consistently to benchmark with the best. The kind of international exposures we offer to students can be matched only by a few colleges in the country.
We are committed to promoting an environment that creates intellectual curiosity, pursuit of knowledge and academic excellence.
AT IBS, it is not just about brains on the stick! We lead way ahead in Interpersonal Impact, Entrepreneurial Training and Global Exposure!
ü 100% Placements
ü Edcuational Loan upto 2 Lakhs
ü Scholarships to Deserving Students
ü Global Exposure
Ten of our top ranking students are preparing to visit USA on a study tour this year. You could be one of them!
Come to this global center for
academic excellence!
Step on your Gateway to a startling
world of business!!
For more information, please call:
+91 770 20 55 677
040 27175308
Email: ibssolipet@gmail.com
-------ooo-----
&nb